Description
Description
Introducing Vista Folia's Forest Flame Colour Box: Nature's Warmth and Elegance at Your Fingertips
Elevate your interior decor with the breath-taking beauty of Vista Folia's Forest Flame Colour Box. Designed to infuse your living space with the captivating warmth and timeless elegance of the forest, this exquisite creation brings the essence of the great outdoors into your home.
Key Features:
Nature's Palette: The Forest Flame Colour Box is a testament to the mesmerizing colours of the forest. Its rich hues of deep reds, vibrant oranges, and golden yellows mirror the changing seasons, creating an evergreen homage to nature's vibrant palette.
Artistry in Every Detail: Each Forest Flame Colour Box is a masterpiece of craftsmanship. Meticulously designed and handcrafted, it embodies the intricate beauty of the forest, showcasing the artistry that resides in nature's symphony of colors.
Versatile Elegance: Whether you're seeking a statement piece for your living room or a subtle touch of warmth for your bedroom, the Forest Flame Colour Box effortlessly complements a range of interior styles, adding a touch of sophistication and nature's grace.
Quality Assurance: Vista Folia's commitment to quality is evident in every aspect of this creation, from the carefully selected materials to the expert craftsmanship. The result is a durable, timeless piece that adds a touch of elegance to your decor.
Nature-Inspired Inspiration: This Colour Box serves as a daily reminder of the beauty of nature. Its presence infuses your living space with the serenity and vitality that can only be found in the great outdoors.
Transform Your Space:
Embrace the warmth and elegance of the forest with Vista Folia's Forest Flame Colour Box. Let it breathe life into your home, awakening your senses and inviting the soothing beauty of nature into your everyday surroundings.
Why settle for ordinary decor when you can have the extraordinary? Explore the Forest Flame Colour Box from Vista Folia and experience the magic of nature's inspiration in your home.
Elevate your living space with the Forest Flame Colour Box – Your gateway to a world of timeless elegance and natural splendour.
Specifications
Invigorating reds blend with the green to create a stunning view.
Use these lush plants as you please, simply slotting them into the Vistafolia® Panel where you want them.
Each Colour Box contains enough plants to personalise 8 Vistafolia panels.
Manufactured to ISO 9001 Standards
5 year warranty
CREATE SHAPES – MIX & MATCH
Additional plants give the wall a random element that is even more akin to a natural wall that can be used on their own or in a combination.
GREEN WALLS YOUR WAY – FINISH AND BLEND WITH COLOUR BOXES
The finish, the polish and the personal touch. That's what is achieved with Vistafolia Colour and Texture Boxes. Each box works harmoniously to create a seamless, flawless look, enhanced by your personal style and design eye.
Delivery 
Buy online and get it delivered to your door – £10 DELIVERY
Returns
Please contact us if you have any problems with the quality of your product or delivery service.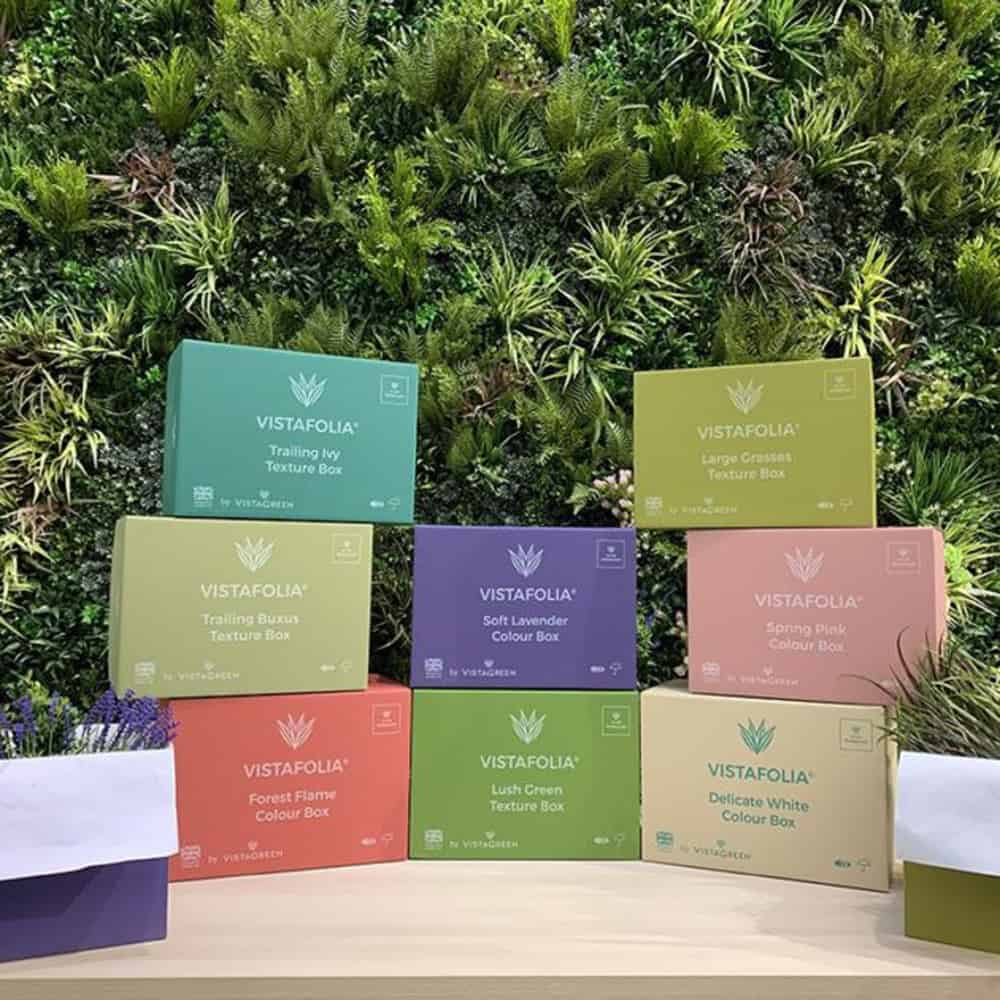 COMBINE THE DELICATE WHITE FLOWERS WITH OTHER BOXES IN OUR RANGE FOR A TRULY BESPOKE GREEN WALL FINISH
CUSTOMIZE THE WALL AS OFTEN AS YOU LIKE WITH DIFFERENT PLANTING
LORE GRAB ATTENTION WITH THE EYE-CATCHING TONES OF THE FOREST FLAME PLANTING
USE THE RED FLOWERS TO COMPLETELY CHANGE HOW YOUR GREEN WALL LOOKS